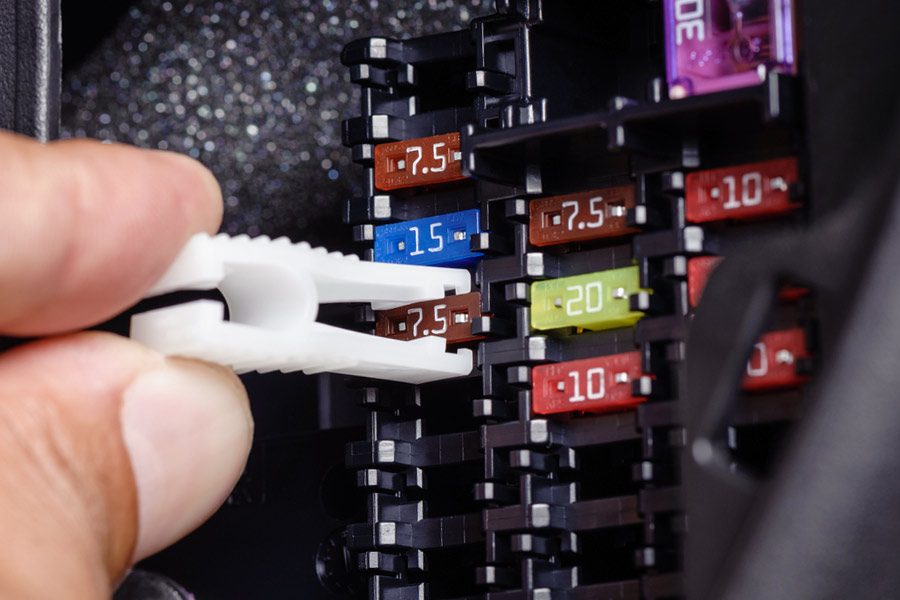 The fuses in the car can overheat or meltdown leading to additional issues. If one small fuse is blown this can cause a lot of problems and the car may not run until the fuse is replaced. These are some tips for checking the fuses to determine which fuse may no longer be working.
How to Check the Fuses
The fuse blocks are often located on the front driver's side of the car. They may also be in the kick panel on a truck. Use the owner's manual to locate the fuse box. Use the owner's manual to look at the different fuses to try to determine which one is causing the issue. The manual will explain what the different fuses are used for and what they operate. There are some ways to check and see if the fuse is blown.
Multimeter
A multimeter is a digital unit that can be used to check the fuses. It will be able to tell a person is the fuse has gone bad and if it needs to be replaced. This device can be found at the local automotive parts store.
Voltage
The DMM can be used to measure the voltage of a fuse to determine if it is still working. The DMM should be set to 12 V and then connect to the battery negative terminal. The positive side should be put on the fuse in question. If the fuse is good it will have a measurement of 12V or 13.5 if the engine of the car is running. If the fuse is bad it will have a zero reading on either side.
Voltage Drop
This is another test to determine if the fuse is good. Both positive and negative probes can be used. A good fuse will have a reading of 0V with no drop. A fuse that is no longer good will have a rating of 12V and there will be a full drop. This means no voltage is available for the fuse.
Continuity
The fuse should be removed from the fuse box and each end should be examined for continuity. A good fuse will have a measure near 0 and the bad fuse will show 0L.
Test Light
An LED test light is an easy way for a person to check a fuse. The light's clips are connected to the power and the ground or the battery terminal. Each side of the fuse is then probed. A good fuse will show a power reading which will turn the light red. If the fuse is no longer good only one side will show the power and the other will showground. A green light will turn on the device.
These are some ways that a person can test the fuses in their car to see if they are blown. A blown fuse needs to be replaced so a person can continue to operate their car.